Heguang Goat Farm
◎English translation: Hou Ya-ting ◎Photos courtesy of CHSG STUDIO
 Heguang Goat Farm, a family-run goat farm in Kaohsiung's Lujhu District, was established in 1991. The farm's proprietor majored in animal science, and began with a mere five goats. Today, the herd has grown to more than 400 goats. Total daily milk output is 350 to 400 kilograms, and the farm sells more than 10 different goat products.
 Instead of feeding goats with bales of hay, Heguang Goat Farm's proprietor insists that fresh grass is better forage, and provides fuller nutrition. He rents land so he can cultivate grass. Early in the morning, he can be seen mowing the tall grass and collecting it to feed his goats.
The farm keeps four members of the family busy. According to the proprietor, the most hectic period begins at 6 or 7 o'clock in the morning when the family has to cut grass, prepare food for the goats, clean the barns, assist with breeding, and milk the goats. As they feed their animals, all four family members scrutinize the goats' condition. These procedures keep them occupied until noon. A few hours later, they repeat the routine, starting at 3 or 4 o'clock in the afternoon and working to 7 or 8 o'clock.
 The proprietor's wife says they have hired people to help with these tasks, but the daunting amount of work seems to scare employees away. The proprietor's son points out that most farmers can take a break when their fields lie fallow. However, those in the animal husbandry industry typically work 365 days a year. Taking a day off is a privilege which livestock farmers do not allow themselves to desire.
 "Goats are curious mammals. They tend to explore their surroundings either by using their horns or biting objects. Also, goats enjoy playing with other goats," says the proprietor's son. If they visit Heguang Goat Farm during feeding time, outsiders may be surprised to see a variety of feeding methods employed for goats of different ages. To the sound of goats bleating, kids (baby goats) are bottle-fed goat-milk powder and goat colostrum. When the animals reach the weaning stage, they are fed a mix of fresh grass, soybeans and corn. Adult goats–including meat goats, dairy goats and breeding goats–mainly eat fresh grass with some nutritional supplements. Heguang Goat Farm is divided into various areas according to the ages and uses of the animals. There is also an area for sick goats.
 Heguang Goat Farm currently breeds Saanen and Alpine goats, both species originating in France. The Saanen goat, a large domesticated dairy goat, has white skin, and both sexes have a short white coat. Adult Saanens have curly hairs atop their heads. The species is known for high milk production. The Alpine goat is a medium-to large-size domesticated goat, with brown hair and black markings on its legs, eyes and along the spine. The proprietor says Heguang Goat Farm has been using purebred goat semen for artificial insemination, adding that the farm is the first private farm in Taiwan to achieve artificial insemination of goats.
 Although they struggle to handle the workload because their workforce is small, the goat farm has developed connections with consumers by offering goat-farm workshops, during which visitors can experience cutting grass, bottle-feeding kids, and milking goats on weekends. The proprietor's wife hopes these activities will give the public more confidence about consuming goat milk after seeing the production processes and tasting fresh goat milk. She points out that fresh goat milk does not have the goaty smell that puts off some people. Once, she recalls, a school girl visiting the farm saw a goat with brown and white hair, and said she thought it would produce chocolate goat milk. This made the proprietor's wife and her family realize that many potential consumers are far removed from the animal husbandry industry. The owners of Heguang Goat Farm therefore encourage consumers to visit, and understand where goat milk comes from.
○ Heguang Goat Farm
No. 302-96, Yonghua Rd., Lujhu District, Kaohsiung City
Tel: 07-696-1317
https://www.facebook.com/goatRanch30296/
‧Free admission; the only charge is for a bottle of milk if one is
interested in feeding a kid.
Other animal farms open to visitors:
○ Lin's Farm
No. 198, Heshan Rd., Dashu District, Kaohsiung City
Tel: 07-651-4567
○ Full & Fresh Ranch
No. 36, Lane 735, Sec. 2, Guangming Rd., Daliao District,
Kaohsiung City
Tel: 07-792-1898
○ Shueicyuan Farm
No. 39-1, Huayuan, Neimen District, Kaohsiung City
Tel: 07-660-1829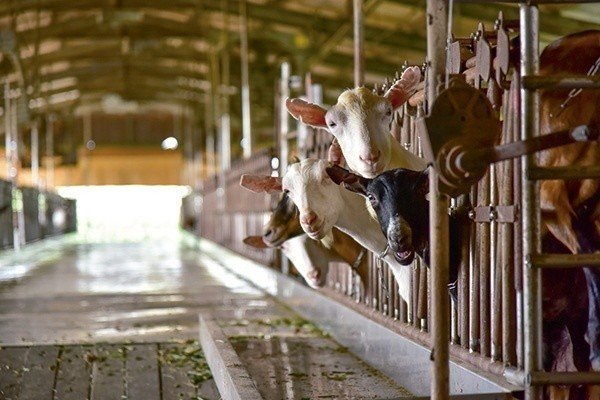 2018高市河岸綠地春節水漾百花報喜
高雄市政府水利局為因應春節佳期,特別於河岸綠地打造花海景觀,讓河岸綠地除了防洪、親水休閒外,更增添幾分美感,也為即將到來的春節增加年節氣息。…


‧《高更:愛在他鄉》在異國找到生命的謬思
一八九一年,高更終於抵達夢寐以求的大溪地追尋屬於他的創作天堂,拋下遠在法國的一家老小、放開只會放嘴砲的友人,在人生走向終點之前他無論如何都想圓滿自己的夢。

‧如何有效的溝通?
無論我們採用什麼方式溝通,都要明白,溝通需要雙方共同的努力,只靠單方面努力是不夠的。所以除了要敞開心胸接納別人外,對於他人剛強、抗拒的心,也要用慈悲心來軟化它,這樣才能達成真正有效的溝通。